Innovation and Entrepreneurship for Fragile Communities:
Methodology and findings of the Gap Analysis conducted across Europe
During the first phase of INTERFACE, the project consortium had the objective to map the state of the art and compare the need requirements among and within partner countries, existing support and demographics of selected fragile communities, as well as their ideas and foresights for future development.
The Fragile Communities Competence Gap Analysis has shown interesting results amongst each partner country and main findings are presented below.


ICELAND - Icelandic Regional Development Institute (IRDI)

The first step for the GAP analysis in Iceland was to identify those fragile communities that might be a subject for the INTERFACE project. Since the Icelandic Regional Development Institute (IRDI) is already working on the Fragile Communities Program in Iceland, communities already participating in the program, together with communities that either were close to being selected or where IRDI is in cooperation regarding other community development programs were selected.
The Five communities selected, based on fragility mitigating factors assessment, were Öxarfjarðarhérað, Breiðdalur, Skaftárhreppur, Borgarfjörður eystri og Vopnafjörður. All, except Vopnafjörður, are participating in the Fragile Communities Program. All are rather remote and have suffered from demographic changes like a decline in the number of inhabitants and an aging population. Economy is monotonous and all are seeking opportunities to develop new jobs which could attract young educated people. Vopnafjordur is the largest of those communities, still with only 645 inhabitants. It also has a stronger economy than the others.
Participation in the questionnaire survey was rather even throughout the five communities. Responses from males were considerably more than from females and there was an age bias with the majority of responses coming from individuals aged 50+, which most likely reflects the problem of aging populations in all the communities.
A clear majority of respondents believed that if all the above-mentioned skills were packaged into one training program it would benefit the community. The respondents believed that face-to-face training sessions, blended learning and experience sharing were the best ways to deliver such training, which might indicate that all are needed in the training program.
ITALY - CESIE
The Gap Analysis Report in Italy has been prepared through the combination of a survey questionnaire provided to the members of four pre-selected communities – the urban communities of Ballarò, Vucciria and Kalsa district in Palermo, and the rural community Chiusa Sclafani, and the conduction of ten in-depth interviews with community members. Key findings are summarised below.
Survey participants : were 60% are male and 40% female, and 75% between 20 and 39 years old. The majority of respondents held a secondary school level degree or University diploma and were affiliated to a civil society organisation or voluntary organisation, and more than 50% work in a non-for profit organisation operating inside the community. Around 70% have been living/working up to 10 years in the respective community; 14% for more than 20 years.
Most problematic areas identified by survey respondents were:
1. Human resources (age structure, level of skills etc.);
2. Business sector, jobs and labour productivity;
3. Infrastructure facilities.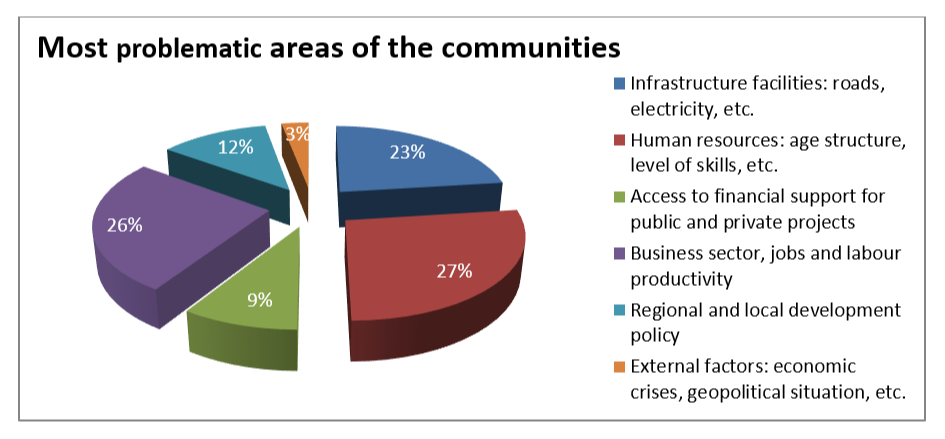 More than 70% of the surveyed persons have been previously involved in community activities that addressed "public needs", addressing areas such as: Human resources; Business sectors, jobs and labour productivity; Infrastructure facilities; Regional and local development policy; Access to financial support for public and private projects.
Concerning the application of the six skills Innovation, Creativity, Analytical Thinking, Resourcefulness, Leadership and Resilience, most of the respondents apply them in their daily life and they consider them mostly as useful for their communities. However they do not think that they are adequately developed in their communities so far.
Most respondents said to be aware of similar training initiatives addressing the skills in their community, and most of them have participated before in such trainings.The training programme envisaged by the INTERFACE is considered to be useful by most respondents and preference is given to face-to-face training and experience sharing. The majority of respondents would be interested in participating themselves (either as coach or as trainee).
The in-depth interviews were conducted with representatives from the four communitiesworking as member/director/founder of a civil society/volunteer organisation, as professionals working in a business organisation inside the community, or as a school teacherAmong the issues affecting the urban fragile communities, the interviewees mentioned a series of social, economic and educational problems, including illegal and criminal activities taking place and the interviewees in the rural community emphasised infrastructural problems and an aging population. A common issue mentioned by interviewees of all communities was the "gentrification" of their districts, and the problem of contrasts between the "new" and "old" population.
Local administration sometimes played a positive role, but in other occasions slowed the progress of initiatives down and inhibited even a successful implementation of initiated projects.
Interviewees emphasised the need to connect face-to-face to the local population, also during the foreseen training activities. The skills identified by the INTERFACE project were mostly seen as useful; although some interviewees said that skills are not the main problem, but rather concrete economic support, also in form of raising funds. Nonetheless, the interviewed persons responded quite positively to the foreseen activities by the INTERFACE project in their communities, and all expressed an interest in participating either as coach or as trainee.
IRELAND - Tipperary County Council
Tipperary County Council engaged in the process of selecting a number of "fragile" communities to participate in the INTERFACE project in County Tipperary, Ireland. The three communities selected were Tipperary Town (area covered by Three Drives Family Resource Centre), Fethard Town and Hollyford Village.

Concise information about the location, infrastructure, demographic characteristics, local economy and labour market were outlined in the three selected communities, as well as recent support initiatives that were available to these communities.

The factors distinguishing the selected communities from the other communities included potential of the natural resources not being sufficiently utilised with growth potential in economic and social sectors.

For these three selected communities, a small scale survey was conducted using a standardised questionnaire for all the partner countries and partners. The survey aimed to collect initial perceptions from local stakeholders (persons associated with the local community/group) on the type of issues facing the community, their severity and ways to address them.

Despite its small scale, the survey provided some interesting findings, of relevance for subsequent project phases. Such finding were, for example, that no respondent was satisfied with the overall situation in their community; a majority rate the "general level of pro-activity in their community" as "rather high" or "high"; the categories considered most problematic for communities are "regional and local development policy" and "access to financial support for private and public projects"; the "skills" that respondents believed would be most beneficial to the community are analytical thinking, leadership and resourcefulness; and all respondents declared an interest to actively participate in any initiative directed towards boosting such skills within their community.
GREECE – Aitoliki Development Agency
the three Western Greece region communities,Gavrolimni, Trikorfo and Galatas were selected to be investigated in the context of the INTERFACE project. The Gap Analysis" Report presented the results of a follow-up Survey conducted in the above three communities.

Firstly, the Report presented and commented on the Survey participants' (total number: 41) personal characteristics and their background. Respondents were mostly male, with 60% of them in two specific age groups (30-39 and 50-59 years) whorepresent the "younger" and the "older" generation of those living and working in the specific communities and, in principle, have an interest in the present and the future of the communities being surveyed. Approximately 7 out of 10 respondents were of an educational level below University level, while, for most of them, "affiliation" with the community is mainly expressed through "business organisations". Several respondents have been living or working in the specific community for more than 20 years, although there is an almost equal number whose presence has been much shorter.

The main findings of the survey conducted in the selected communities present the issue of "Community problems and perceived competence needs". Among various "problems categories", most answers indicated that the major problems faced are associated with "infrastructure facilities – roads, electricity etc.", while "natural resources – air, water, soil, etc." seemed to be the least problematic area (7 responses only). This categorisation points to the crucial importance of Human Resources, as a determinant, not only of the communities' economic performance, but also of their "fragility".

For skills perceived to be instrumental for communities' development programmes planning and implementation, the Survey examined their "frequency of use", their "importance", and, finally, each specific "adequacy"."Creativity" and "Resourcefulness" were perceived to be the "most important" ones. Skills considered, were used, at best, occasionally only, while most important, adequacy of all skills, without exceptions, was perceived as "inadequate"!

The last section of the Report presents the survey participants' responses related to capacity-building for self-initiative and expressed interest and preferred types of training delivery modes. Respondents' potential interest in taking part in training programmes aiming at strengthening their skills, was examined and their unanimous response was positive, while the preferred ways for delivering associated training programmes were "blended learning" and "experience sharing".

In addition to the survey, interviews were also conducted with 10 individuals in the three selected Communities. To develop competences which are presently lacking, interviewees believed that an efficiently designed and appropriately implemented training programme would have much to offer. This however would be conditional on the initiators being able to "inspire" potential beneficiaries, through information dissemination and, as a result, motivate them to participate and claim the expected benefits.

To conclude, according to the interviewees' view, training programmes should be mainly delivered through face-to-face sessions, with expertise transfer and analysis of good practices considered the most effective practices.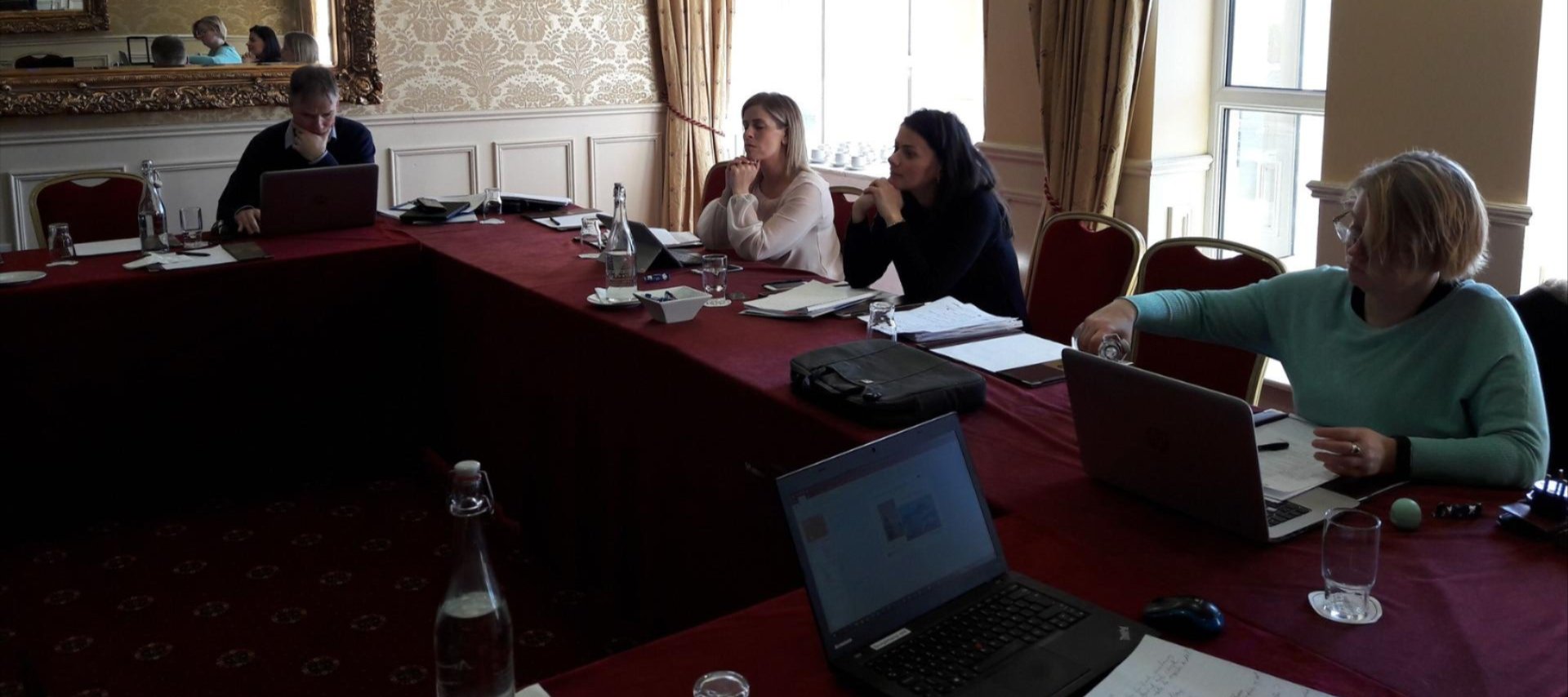 BULGARIA – Tora Consult
The fragile community members' competence gaps in Bulgaria and exploring their preferences on how the upcoming training of community coaches could be organized and delivered most effectively were the main objectives of a Survey and In-depth interviews undertaken by Tora Consult. In Bulgaria, 52 fragile community members participated in the Survey. The respondents' distribution among the three fragile communities, selected for participation in the project activities namely the town of Roman and village of Dolna Beshovitsa (Municipality of Roman, Vratsa District) and town of Knezha (Municipality of Knezha, Pleven District), was quite balanced, as was the men-to-women ratio. Regarding the age of respondents, the largest group constituted those between 50 and 59 years, followed by 40-49-year-olds ,and 30-39 years olds. The educational level of survey participants was dominated by secondary education with more than half of the respondents. The largest group of survey participants were individual community members, followed by representatives of business organizations and local administration. Regarding their background within the community, nearly two-thirds of the participants in the survey identified themselves above all as citizens of their communities. More than 90% of all respondents have been living and/or working within their communities for more than 15 years. According to the survey responses, the most problematic areas in the fragile communities are: business sector and jobs; human resources; access to financial support for projects; and infrastructure facilities. Most respondents indicated to have taken part in the implementation of projects, application for grant funding and putting entrepreneurial ideas to projects, addressing predominantly one or more of the problematic areas above. Such activities have been implemented more frequently by internal actors (mostly business organizations and respondents themselves). Most survey participants were satisfied with the results achieved through their involvement in these activities, which according to respondents would be better if the initiative at individual and community level were higher.

Of the six INTERFACE skills, respondents identified 'resilience' and 'innovation' as the skills that they use respectively most and least frequently. Survey participants considered as relatively more important and adequate 'resilience', 'resourcefulness' and 'leadership', while 'creativity', 'innovation' and 'analytical thinking' were thought of as less important and adequately possessed. Comparing the levels of skills' considered importance and estimated adequacy, it can be inferred that the identified skill gaps are wider for 'resourcefulness', 'creativity' and 'leadership', compared to the other INTERFACE skills, namely 'analytical thinking', 'innovation' and resilience'. The average skill deficiency, calculated for all of the above skills is deeper, compared to even the widest individual skill gap, which is registered for 'resourcefulness'. When asked to express their opinions about the usefulness of a prospective training programme, packaging the INTERFACE skills, survey participants were unanimous that such a programme would be beneficial for their entire community. Regarding training delivery modes, respondents identified blended learning, distant learning and face-to-face training sessions as most preferred. The majority of survey participants expressed their interest in participating in an INTERFACE training course on the above-mentioned skills, most of them as trainees. In-depth semi-structured interviews were conducted with nine community members from all three fragile communities in Bulgaria. Interviewees self-identified themselves as citizens of the community or representatives of business organisations operating within the community, most of them in the retail trade and service sector, whereas all of them have been living / working within the community for more than 20 years. As most problematic areas for the development of their communities, interview participants identified high unemployment, bad infrastructure, depopulation, ageing and lack of qualified staff, incl. due to outward migration. The ways that the above issues were tackled at community level, according to interviewees, was mainly through implementation of EU-funded projects by business organisations and local administration. Self-initiative at individual level was most frequently considered by interviewees as most in need of support within the community, whereas resourcefulness, resilience and analytical thinking came up as the skills most frequently used for the improvement of the situation in their communities. All 9 interviewees believed that an INTERFACE skills' training programme would benefit their communities, whereas the best way to deliver it was considered face-to-face learning and experience sharing. Here again, as with the survey, interviewees declared interest to participate in such a training programme, mostly as trainees.
Do you want further information about INTERFACE?

The European Commission support for the production of this publication does not constitute an endorsement of the contents which reflects the views only of the authors, and the Commission cannot be held responsi­ble for any use which may be made of the information contained therein.
View web version | Unsubscribe
You have received this e-mail at [Email] because you are subscribed to CESIE newsletter.
We recently updated our Privacy Policy. Renew your consent to data collection here.
If you do not want to receive our newsletters anymore, please click here to unsubscribe.